Just wanted to post my sweetest day gift from the hubby...he is extremely thoughtful. I appreciate him more than he knows or could ever understand. I know lately that he feels like that might not be true, but I could never be without him. I adore him. Next to God, I live for him.....
He was wonderful and got me fall flowers for the fall vase he got me last year. Also, got some wonderful bread and jam. Last but not least caramel truffle apples....yum! He speaks to my heart and hips...teehee...
I got flowers twice this weekend. On Friday at the game after presenting Courtney for the last time on the field. All the parents received flowers. I thought that was very nice.
Here is a pic of us before going across the field for the last time. Courtesy of Courtney's friend Sydney. Thank God she was there or else we would not have gotten any pictures. I am a bit self conscious though with just having had Jack and needing to lose a ton of baby fat...okay, maybe not a ton, but 100 pounds. Pretty soon I will be blogging my weight loss.
Court hates when we do this to her...he he he.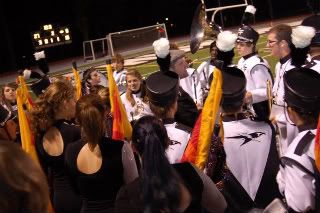 Here is a pic of all the parents and seniors.
Yesterday was great. I enjoyed myself. Bill and I were really regretting not going to more games. Sad to think we wasted so many opportunities and now she is graduating.